TOUCHSTONE PARTNERS ANNOUNCES TWO NEW INVESTMENTS AT INAUGURAL "TOUCHSTONE DAY" EVENT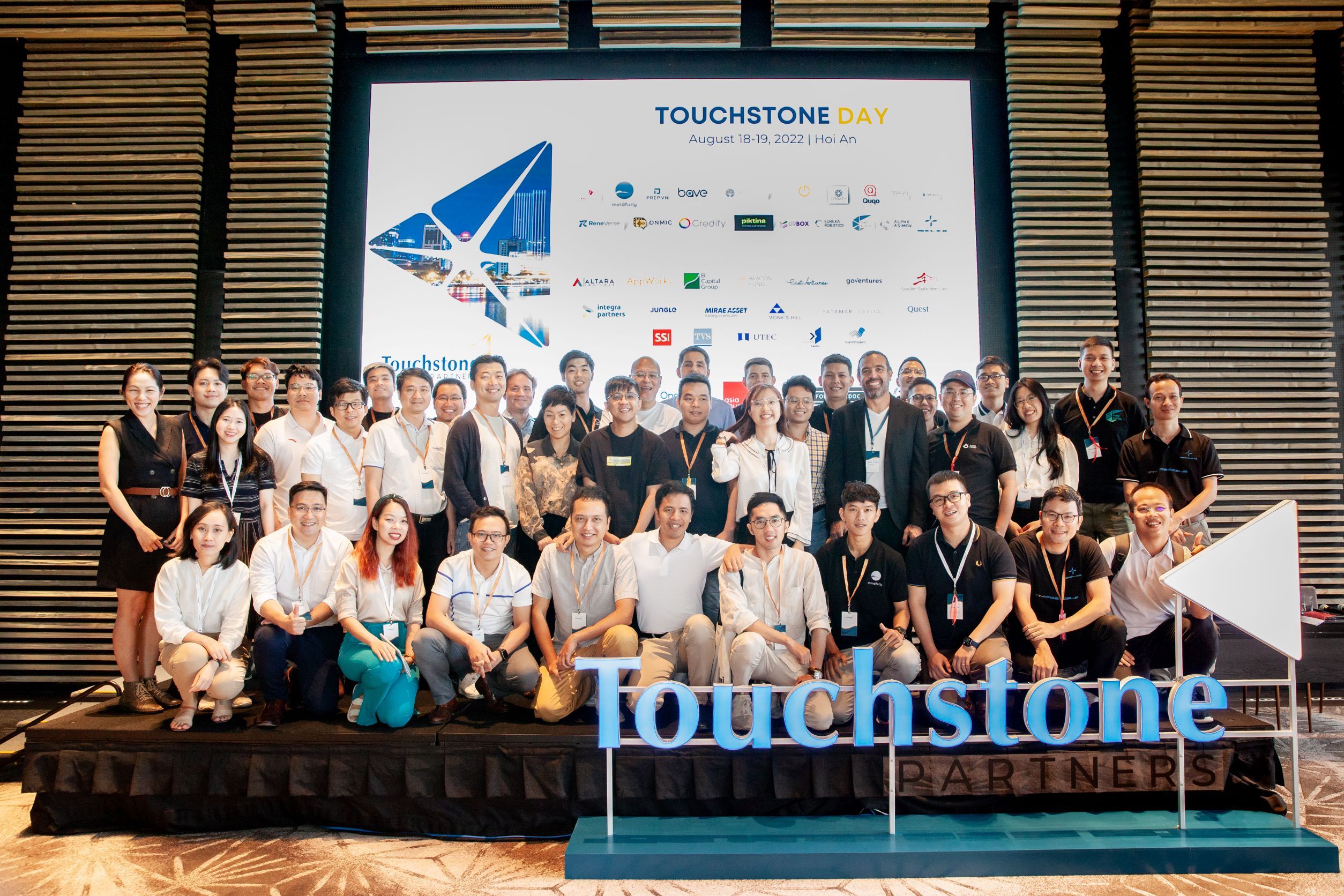 TOUCHSTONE PARTNERS ANNOUNCES TWO NEW INVESTMENTS AT INAUGURAL "TOUCHSTONE DAY" EVENT
Venture capital firm takes stakes in Credify and Prep
Touchstone Day drew 150 investors, founders, and partners from around the region
Ho Chi Minh City, 22 August 2022 – Touchstone Partners announced today that it has led investments in two startups: Credify, which is pioneering embedded finance technologies, and Prep, an edtech company bringing interactive and personalized test preparation to tens of thousands of online learners.
The announcement of the new investments was made during the venture capital firm's inaugural "Touchstone Day" conference, which took place 18-19 August at the Hoiana Hotel in central Vietnam. The event, which showcased the firm's portfolio of 21 companies, combined panel discussions, workshops, and pitching sessions, which were organized around four key themes: life tech, community economy, supply chain transformation, and breakthrough vision. Touchstone Day was attended by 150 investors, startup founders, and business partners from around Southeast Asia.
Investment in Credify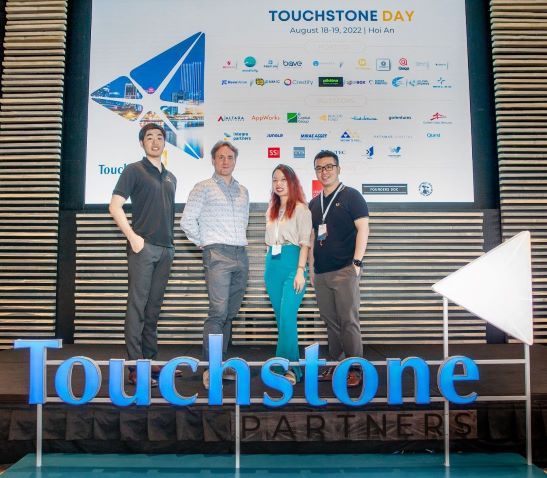 Credify is creating a privacy-preserving embedded finance platform that connects financial service companies such as banks and insurers with consumers at the right time and in the right way. The company's ServiceX solution brings multiple financial options to end consumers at a platform-purchasing level. Consumers who meet pre-established criteria and use a service such as a participating ecommerce site will see tailored offers that meet their immediate and future needs, such as buy now pay later, or home insurance offerings on a site focused on home design and decorating. ServiceX is being integrated and used by a rapidly growing list of clients in Vietnam, including OCB, HD Insurance, Chotot, Housecare, bTaskee, Dienthoaigiakho, and Med247.
The solution includes blockchain and cryptography-based security, data privacy, and data leak prevention. The company is also working to develop an additional layer of blockchain technology that can facilitate cross border transactions.
Launched in 2019, Credify is based in Singapore and has operations in Vietnam and Japan. The company has been selected to participate in several accelerators and has won several pitch contests. Its multinational team boasts a solid track record of success, from previous high-profile technology exits to significant careers in the financial industry. Co-Founder and CEO Makoto Tominaga, who has over 20 years in engineering and technical marketing experience, is a veteran of two companies, Authentec and Validity Sensors, with successful exits. Co-Founder and Director of Engineering Shuichi Nagao has extensive fintech development experience as well as one successful exit with Candle. He currently leads a R&D team of more than a dozen engineers. CFO and interim COO Maurizio Raffone has more than 20 years of experience in international finance and served as a managing director at UniCredit and partner at Trispan LLP.
Touchstone is leading a consortium of investors in this Pre-Series A fundraising round and has committed USD1 million. Credify intends to use the proceeds to accelerate and scale up product development and distribution.
Mr. Makoto Tominaga, Co-Founder and CEO of Credify, said: "At present, how consumer data is collected and used is fragmented and, in some cases, controversial. There is too little data sharing across commercial platforms, and the way consumers are currently targeted for potential beneficial financial products and other offers is ineffectual and inefficient. A large part of that is due to a lack of trust in the digital economy. Credify is changing that by creating innovative identity and trust solutions that enhance credibility and enable ecommerce platforms and financial institutions to reach customers with tailored beneficial offers at the right time in an online commercial transaction. We are looking at real-world problems and determining how blockchain and other technologies can better serve the privacy and commercial needs of all parties involved. This is an enormously exciting space and time we're in, and we are gratified that Touchstone and the others in the consortium share our confidence in what we're doing through their investment."
Investment in Prep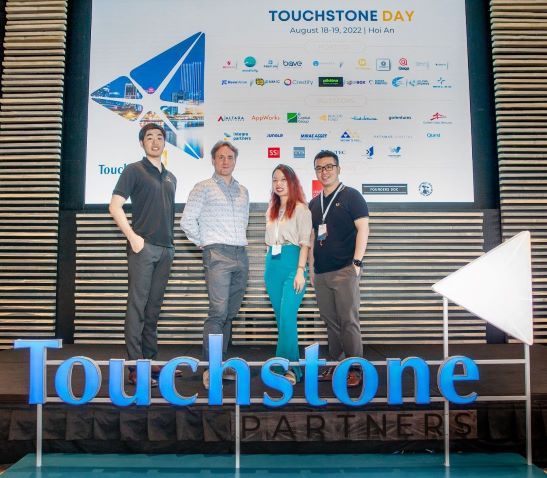 Prep is an edtech startup developing an interactive learning platform where for learners can follow a personalized study plan to reach their target scores in standardized tests. The company's solutions are built on three pillars: video lessons produced in-house by educators with decades of experience in test preparation, virtual test rooms and AI-enabled exercises created by combining the best AI solutions of partner companies with Prep's own algorithms of analyzing speeches and texts, and personal interactions with highly experienced human teachers.
Learning experiences on Prep are designed to be comparable to, and in some areas better than, face-to-face lessons with human teachers. For example, learners on Prep have 24/7 access to virtual test rooms where they can take full tests and receive instant detailed feedback on how to improve in their next attempt. In addition to this, learners practicing their speaking skill can fast forward to the exact moment where they make a mistake with one click, then get extra readings about the error with just one more click. These experiences are either impossible or tremendously costly in traditional face-to-face education.
To date, Prep has published over 100 courses, 600 lessons, 500 videos, 5,000 exercises, and 200 mock tests for IELTS, High School Graduation Exam and TOEIC. By the end of 2022, Prep plans to open live classes for the existing tests before expanding its team to offer other foreign languages, such as Chinese, Korean, and Japanese in 2023. Longer term, Prep envisions developing its own AI marking tools and expanding to test preparation for professional certificates.
Prep was founded in November 2021 by Mr. Tu Pham, who in 2014 previously founded an offline test-prep company called IPP Education in Hanoi. Tu has nearly a decade of experience in teaching English, teaching more than 5,000 students -- 850 of whom scored IELTS 7.0 - 8.5 by 2022. He is also a coder and a business manager, holding a MSc and a PhD in Management, and is currently pursuing another MA in teaching at Lancaster University.
Touchstone invested USD1 million during the seed fundraising round.
Mr. Tu Pham, Co-Founder and CEO of Prep, stated: "Vietnamese parents are well-known for investing in their children's education. In fact, according to government data, 40% of disposable household income goes toward education. Foreign language education is more critical than ever to helping ensure future success. Whether for pursuing studies overseas or for getting higher-paying jobs in Vietnam, the ability to speak English or other foreign languages is key to earning higher incomes. We believe Prep's model, which combines online teaching tools with our vast experience in offline teaching, provides an optimal way for more students to have access to proven learning strategies. In less than a year since we started Prep, more than 50,000 have already taken our courses, and we look forward to continuing to refine our platform and expand our offers to other tests. We're excited to have Touchstone on this journey with us."
Mr. Khanh Tran, Managing Partner of Touchstone, commented: "Credify and Prep are very different and unique businesses, but they share the key attributes we look for in startups: experienced and visionary founders with innovative solutions that have the potential to be gamechangers in their respective fields. We are delighted to join them on their respective growth journeys."
Ms. Tu Ngo, General Partner of Touchstone, added: "We would like to thank everyone near and far who joined us for our very first Touchstone Day. We are delighted that 150 current and prospective investors, startup founders, and others had the opportunity to learn, share experiences, strengthen relationships and build networks in a beautiful and relaxed setting. While the venture capital and startup scenes can be fiercely competitive, we believe in the value of collaboration, as ultimately, we all share the same goals. We look forward to hosting Touchstone Day again next year."
About Touchstone Partners
Touchstone Partners is a Vietnam-focused venture capital firm that aims to assist talented and driven founders to realize the potential of their businesses by applying their deep understanding of the Vietnamese market and utilizing a global network of connections.
Current investment areas include fintech, real estate, health technology, educational technology and technology initiatives that improve the efficiency of the value chains of important industries such as production and agriculture. Touchstone Partners aims to promote positive social development and set high standards for venture capital in Vietnam, proving that Vietnamese startups can deliver significant technology innovation and have a meaningful impact on society. Touchstone Partners' investment capital comes from Pavilion Capital, Vulcan Capital, and several major governmental and private financial institutions in the region and the world.
For further information, please visit: www.touchstone.vc or email to: hello@touchstone.vc.